Today's Fashion Flash host is Jodell Raymond. Her website BlackCatPlus
offers the latest fab plus size fashions for women over 40.
This week's Fashion Flash is all about getting the best out of Summer's last weeks. Click here and enjoy.
Can you Over Exercise? Too Much Of A Good Thing?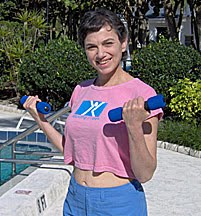 A recent study at the University of Alabama with older women concluded that the exercise sweet spot is about 40 minutes of cardio twice week and a full body strength workout on 2 alternate days.
The group that exercised more, up to 6 times a week did not achieve better results, and reported less energy for daily activities.
So more is not always better!
For more  Info at home exercise programs for women over 40 please visit www.mirabaiholland.com
Related articles