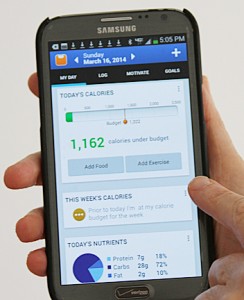 Weight Loss Apps. Really?
Want to lose weight? Me too. Whether it's 5 pounds, or more than 50, losing weight is a constant struggle for most of us. We're all looking for anything we can find to keeps us on track. One of the most effective, tried and true, weight loss aids is keeping a diary,
You eat something, you write it down. You do a half hour of cardio exercise, you write it down. You want to know how many calories in a handful of peanuts, dig out your calorie book, look up "handful of peanuts and write it down. It works, but it's colossal pain in the neck!
Well, now there's an app for that. Using weight loss apps will put all the info you'd be struggling to write down at your fingertips. And the better weight loss apps make it really easy. They're not scary at all!
You put in your email and your password, tell it whether you are male of female, and enter your height, your age, how much exercise you do, your current weight and your goal weight. Then, you set your weight loss plan. You tell the app how much weight per week you want to lose. The app tells you how many calories you're allowed to eat each day.
You can log in and find out how many calories in that handful of peanuts, that piece of cake, that glass of wine. You list everything you eat during the day and any exercise you do. The app keeps a running tally and tells you how many calories you have left that day. It really helps to know that you can have either a chocolate moose or turkey sandwich. It helps you choose the turkey sandwich by giving you the nutrients in various foods. You can also pick portion size and store your favorite foods so you can log them in quickly.
There are dozens of apps available for your computer, tablet and smart phone. Some cost a few bucks, but many are free. Here are a couple of apps that I particularly like. The basic apps are free. You can pay for premium versions but I'm using the free versions and they're enough for me. The functions of both of these are similar but some people prefer one layout or the other.
Check them out and take your weight loss high tech.
 And of course it helps to add regular exercise to the weight loss mix. Get at home exercise videos for women at www.mirabaiholland.com