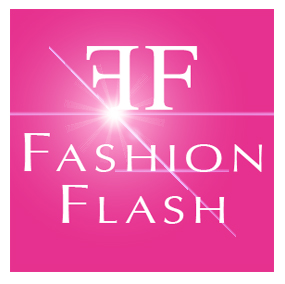 Fashion Flash is hosted today by Caryl & Maryl of Second Lives Club, here to help you plan and execute your next life the one that's the Real You. Click in for Insight and Inspiration. All of us Fashion Flash Bloggers are here for you with everything Fashion, Beauty, Health & Fitness, and Retail Therapy. Happy Monday.
ASK MIRABAI Q & A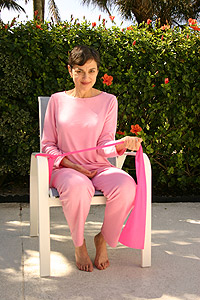 Q: l've recently hurt my left shoulder. My doctor said it was a rotator cuff injury. I went through physical therapy but my shoulder still hurts me. My doctor wants me to do some post-rehab exercise to continue to rebuild the muscles.
What exercises can I do at home? And are there any exercises I should avoid?
A: Rotator cuff injuries can take a long time to heal. While your shoulder still hurts don't do any movements with your arms higher than shoulder level. Once you get clearance from your doctor, you can try this classic exercise to help strengthen that area. lt's called external rotation.
Get a resistance band and sit in a chair with arms. Tie one end of the band to the right arm of the chair. Sit up straight facing forward. Hold your left arm in front of you, bent at 90 a degreeangle, palm up. Grab the band in about the middle. Keep your elbow close to your side but not touching. Pull the band laterally away from your body while exhaling. Hold for 5 seconds and gently release. start with 1 or 2  and build up to 8-12 repetitions over a couple of weeks. If you don't have a resistance band, use a towel or scarf.
Please send your Health & Fitness Questions to askmirabai@movingfree.com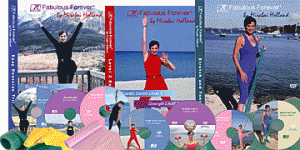 GET 15% OFF ALL VIDEOS, EQUIPMENT & T-SHIRTS PUT IN FABHOLIDAY AT CHECKOUT. GOOD UNTIL JANUARY 1 2014 at www.mirabaiholland.com

To View All Products: Click Here