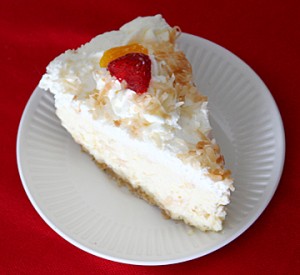 Can you really enjoy holiday eating with no weight gain?
Well, when we think of the holidays the first thing that comes to mind is holiday eating and the fear of weight gain. That's because we always have a few treats up our sleeves. And we do gain weight.
But, preventing this phenomenon of holiday eating is not as hard as you think. You don't have to starve, deny yourself favorite holiday dishes or do heavy-duty compensation workouts.
 Holiday Eating With No Weight Gain: Some Pointers
If you are the one cooking, you are more in control of what is going to be placed on the table.
So you can choose equally delicious lighter recipes. But, if you are visiting friends and family all bets are off and your radar needs to be on. It's all about portion control.
Don't wait till the second piece of pie gets offered. Pre-planning is key. In some cases you'll know from past experience what the menu will be. Even if you don't, assume there will be a barrage of excess temptations. Excess is the operative word. Enjoy but not to excess.
Whether you count calories, points, or eyeball your portions, eat half of what you think you should eat. If you are not sure of a particular food or treat, pass on it, or just take a bite to see if it is worth the calories. If you find yourself hungry after all of this, you can eat a little more or maybe you've actually saved room for that dessert.
You can visit, enjoy the company, make merry and have a smug sense of self-assurance that this whole season will pass without you gaining even a pound. Who knows, you might lose weight.
That brings me to your insurance policy. If you don't exercise regularly this is definitely the time to start and get a jump on your New Year, New You. If you do, make time for it. You don't have to do extra but don't make the excuse you're too busy at this time of year.
Cardio exercise is great calorie burner, and we all know that a half hour of moderate aerobic exercise a day can reduce one's chance of heart attack by a whopping 50%.
See how I snuck in my pitch for exercise? I am not suggesting anything that I don't do myself. It works for me and I bet it will work for you.
Give it a try and let me know what you think. And let me know if you were able to enjoy holiday eating without weight gain.
Happy Holidays! For at home exercise programs check out my site www.mirabaiholland.com Follow Mirabai Holland, Certified Health Coach & Certified Exercise Physiologist:
HOLIDAY HEALTH & FITNESS DEALS
50% OFF TOTAL MEMBERSHIP ONLINE WKOUT CLUB Code: FAB CLICK HERE
20% OFF ALL WORKOUT DVDs EQUIPMENT &T-SHIRTS Code: THANKS CLICK HERE

SPECIAL PRICE JUMP-START HEALTH COACHING PACKAGE  CLICK HERE
GREAT HOLIDAY GIFTS FOR WOMEN WHO WANT TO GET HEALTHY & STAY FIT WITH MIRABAI'S SIGNATURE MOVEMENT TECHNIQUE  AND HEALTH COACHING SESSIONS THAT TAKES THE PAIN OUT OF THE GAIN! IF YOU ARE STRUGGLING WITH AGE ONSET ISSUES LIKE  WEIGHT GAIN, MENOPAUSE, OSTEOPOROSIS, HEART DISEASE, DIABETES, ARTHRITIS AND MORE YOU HAVE COME TO THE RIGHT PLACE! 
For more health and fitness info and in home exercise videos please visit www.mirabaiholland.com