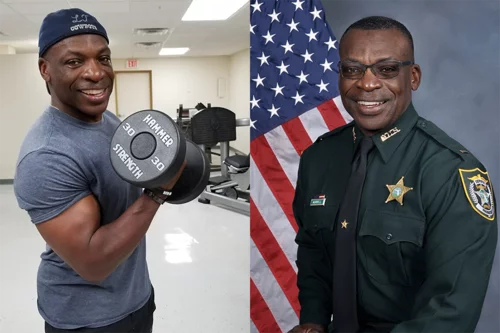 When I started Health Coaching I was concerned about my blood pressure and my stress level.
I told Mirabai my concerns and she helped me set short and long-term goals I could live with. Instead of just telling me to do this or that, we came up with things I would actually do. My blood pressure was ranging between about 145/90 and 135/88, and that's on meds. Mirabai helped me find a home blood pressure machine with a cuff that would fit my arm and give me a more accurate reading at home. To check myself, I started going to the nurse's office once a week to check my pressure. It took over a year to get it stable and I'm still on meds but now my pressure is mostly around 128/79
To work on getting it to that normal range, I started logging my food and how much sodium I was eating. I was surprised by how much it was. I was eating on the go and not making the healthiest food choices. I started bringing a healthy lunch to work and cutting way down on the fast food and soda. I gradually cut my sodium down to the American Heart association guidelines of 1500 mg a day. I'm a power lifter and I work out all the time, but I wasn't doing any cardio. So I added cardio to my routines. I built up from zero cardio to 30 minutes 3-4 days a week.
I'm a disciplined person but it was tough at first. Mirabai was a neutral, non-judgmental person I could rely on. It helped me to stay accountable to myself and keep my eye on my goals.
It wasn't only about my blood pressure though, it was also the stress I was under. My Health Coach helped me minimize my stress. Sharing why I was feeling this stress and talking about it instead of keeping it inside helped me deal with it more effectively. It was like having an umbrella to protect me from the rain of my stress. Mirabai sent me a link to a meditation video I could do at my desk. She said "just try it and let me know what you think". I've used it a lot and it does help.
As a coach, Mirabai was a perfect fit. I felt Mirabai had the expertise and experience I needed. I could trust her and rely on her to give me resources to help me make my changes much easier.
Setting and achieving goals spilled over into the rest of my life too. Formulating a plan and goals, and steps to achieve those goals, has helped me in my work and with other things.
I've achieved many of my goals but I still work with Mirabai on a less frequent schedule to help keep my maintenance on track. Currently I'm working with Mirabai to help combat some recent orthopedic issues. She's helped me get the right tests and be my own advocate for the healing of this issue I'm rehabbing.
I recommend health coaching to anyone who is serious about their health and longevity, and wants that extra help with whatever they're dealing with.
John Murrell
Manatee County Sheriff's Office