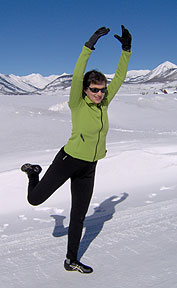 Holiday Exercise!
With the holidays around the corner again those old familiar fears are rearing their ugly heads. For me it's: how am I going to get through this with my sanity and how am I going to keep from gaining a ton?
Exercise has always been my catchall solution, like Windex for the father of the bride in that movie My Big Fat Greek Wedding.
As those of you who read my column know, during the holidays I pretty much throw up my arms and prudently sample every goodie that comes my way. But I emphasize the word SAMPLE. If I come to the table hungry those samples could get quite large, so I use my Windex (I mean holiday exercise; I don't use real Windex) to help me through.
Holiday Exercise Tips:
Here is a short video to kick start your Holiday Exercise:
Endorphins make you feel like all is right with the world. Maintaining sanity becomes much easier after a good workout.  They also tend to suppress your appetite. 30 minutes or so of aerobic exercise is enough to get your body to release those endorphins and it burns about 200- 300 calories. Strength training about a half hour every other day burns about 200 calories. It also raises your metabolism and keeps it up for hours after you've finished exercising. You see where I'm going here?
If you get started now you can stay sane, get in shape, reap all the health benefits daily holiday exercise has to offer, maintain or even lose weight, and get a jump on the 2 most popular New Year's resolutions: Get in shape and lose some weight. Not bad.
HOLIDAY HEALTH & FITNESS DEALS
NEW ON-DEMAND WORKOUT CLUB
NOW YOU GET MIRABAI'S EXERCISE VIDEOS ON-LINE 
50% OFF 1st YEAR TOTAL ACCESS ($49.95) DISCOUNT CODE: FAB
NEW! Mirabai Holland's Online On-Demand
ALL ACCESS Video Workout Club for 50+
You get 35 videos including NEW Ballet Barre Workout With Chair. We will be adding more videos as we complete themExercise when it's convenient for YOU with 24/7 access. View on Computer, Mobile Devices, & Your TV via HDMI cable or Apple video
Regular Price: $99 a year
50% OFF TOTAL MEMBERSHIP ONLINE WKOUT CLUB Code: FAB CLICK HERE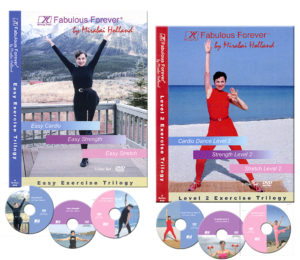 20% OFF ALL WORKOUT DVDs EQUIPMENT &T-SHIRTS Code: THANKS CLICK HERE

SPECIAL PRICE JUMP-START HEALTH COACHING PACKAGE  CLICK HERE
GREAT HOLIDAY GIFTS FOR WOMEN WHO WANT TO GET HEALTHY & STAY FIT WITH MIRABAI'S SIGNATURE MOVEMENT TECHNIQUE  AND HEALTH COACHING SESSIONS THAT TAKES THE PAIN OUT OF THE GAIN! IF YOU ARE STRUGGLING WITH AGE ONSET ISSUES LIKE  WEIGHT GAIN, MENOPAUSE, OSTEOPOROSIS, HEART DISEASE, DIABETES, ARTHRITIS AND MORE YOU HAVE COME TO THE RIGHT PLACE! 
For more health and fitness information and at home exercise programs please visit www.mirabaiholland.com
EASE IN, BECOME MOBILE, GET STRONG, LIVE LONG!  Healthy Life
Follow Mirabai Holland, Certified Health Coach & Certified Exercise Physiologist
NEW MIRABAI HOLLAND ART! CHECK IT OUT AT MirabaiHollandART