Water Ballet Exercise!
We are filming for several hours a day starting at the crack of dawn. The weather is cooler but not for long. My only relief has been to strip off my workout clothes, which are almost pasted to my body, jump into a swimsuit and plunge into the pool. After about 45 minutes of laps back and forth I get an idea. What if I try some exercises in the water, holding on to the side of the pool? Doing some Water Ballet Exercise in the water, while cooling off is not such a bad idea I'm thinking. So I try one of my on land favorites for my legs and butt. I like it! I can really feel it working. It may be even more effective with the water for added resistance. This Aqua Ballet Workout not only tones your lower body but it also helps to elongate your muscles while you are doing it. And because you are in the water, you are adding resistance to strengthen your legs and butt while at the same time using your core muscles to help keep your body upright and balanced.
Try this Water Ballet Exercise to Tone Up Your Legs and Butt
Stand facing front, heels together, feet turned out. Hold on to the edge of the pool with your right hand. Slowly bend left knee, bringing foot up to right knee forming a triangle. Slowly stretch leg in front of body. Then bring foot back to the knee of the standing leg and return to the starting position. Repeat 4 times to the Front, Side, and Back.
Turn around and repeat exercise on the other leg holding on with your left hand. Enjoy this Water Ballet Exercise.
For more health and fitness information and at home exercise programs please visit www.mirabaiholland.com
EASE IN, BECOME MOBILE, GET STRONG, LIVE LONG!  
In these times of social distancing and sheltering in place is a perfect time to focus on your health and well-being. It can make a big difference to keep your immune system strong. If you need some help, I have your back! Here's a short video about my Health Coaching Technique how I have helped my clients achieve a balanced and Healthy Life. https://www.mirabaiholland.com/health-coaching-one-session/

50% OFF TOTAL MEMBERSHIP ONLINE WORKOUT CLUB Code: FAB CLICK HERE
TAKE CHARGE OF YOUR HEALTH!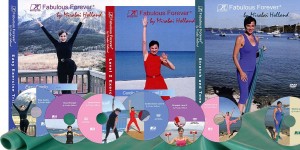 EASE IN, BECOME MOBILE, GET STRONG, LIVE LONG!  LIVE LONG! For more info on health and wellness programs please visit www.mirabaiholland.com
 Follow Mirabai Holland, Certified Health Coach & Certified Exercise Physiologist:
For more health and fitness information and at home exercise programs please visit www.mirabaiholland.com