With today's emphasis on productivity, its hard not to get stressed out.
Here are a couple mini moments you can take at your desk to help yourself
relax, focus, and energize.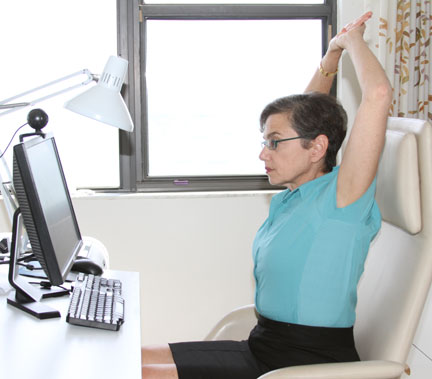 Diamond Stretch:
 Raise arms over-head linking hands together.
Slightly bend elbows and gently move them back.
Hold for 10-20 counts.
Stretches & Relaxes: Shoulders, Chest and Upper Back
 BREATHING EXERCISE
Close your eyes. Concentrate on your breathing.
Breathe in and hold your breath for 1 second – 1 hundred thousand, Breathe out
Breathe in again a little deeper and hold for 2 seconds – 1 hundred thousand, 2 hundred thousand – Breathe out
Breathe in deeper and hold for 3, then 4, then 5 seconds
By the time you hold for 5, you should feel pretty good.
Related articles