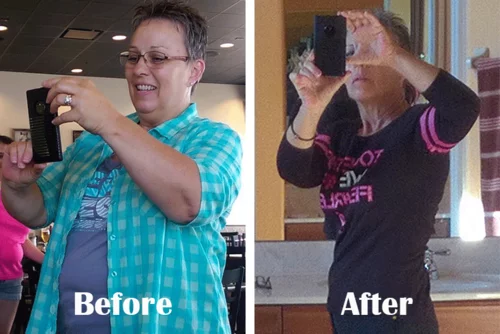 Debby dropped 5 pant sizes and lowered A1C with help from her Health Coach
Health Coaching has been a big help to me!
• I went from 212lbs to 135lbs.
• I went from size 18 jeans to size 8 and from XL shirts to medium shirts.
• I lowered my A1C and my total cholesterol which was a result of changing to a healthier diet and more active lifestyle combined with Bariatric surgery.
• I have more energy after my weight loss.
My health coach, Mirabai Holland, has been like a rock and has encouraged me to keep going and never to give up. I learned to take one step at a time and to accomplish a small goal every week instead of going all at once to get to my bigger goals. By taking little steps I eventually, over a year's time, was able to change my behaviors, make them sustainable and achieve my goals.
I always looked forward to each session so I could tell Mirabai what I accomplished, and she would give me a pat on the back and encourage me to continue and make new short term goals. I tracked my food and exercise and every session we went over my nutrition. I was able to substitute healthier food choices and slowly changed my diet from empty sugars and carbs to lean protein and fresh fruits and veggies, adding more fiber to my diet.
After the first two weeks I gave up my diet sodas. It was rough, but eventually I didn't miss it.
My coach gave me good suggestions and resources to help me learn and educate myself to make healthier choices. The method was brainstorming together each session with short term goals that led to long term behavior change combined with positive feedback and encouragement.
Talking to Mirabai made me not feel guilty if I didn't meet the goal. We would change it, adapt it or give me more time to complete the goal.
I began to exercise slowly. Mirabai told me go slow and ease-in so we decided to start with easy slow walking. It took me an hour just to walk 1.5 miles 2-3x a week. I also added biking because I found at the beginning that it didn't bother my knees as much as the walking. Eventually, Mirabai gave me a light strength exercise program using exercise bands. I now have progressed to walking with intervals of running 3.5 miles in 30 minutes, 7 days week. I also got on my roller blades, 2x a week 30-40 minutes.
Exercise at first was grueling and now its fun and when I don't do it, I feel like something is missing. It has become an integral part of my daily life.
I measured the hanging flesh from the back of my arms. It was 3 inches after the Bariatic Surgery and now it is only 1.5 inches. Again, Mirabai came through over the last 3 months with upper arm exercises to help me tone up my arms and buttocks. The back of my arms look so much better; I am really pleased with the results.
Even after Bariatric surgery, I continued my health coaching sessions with Mirabai a month after the surgery. Over the last seven months I lost more weight and increased my exercise intensity, duration and frequency. Mirabai updated my exercise program to include strength training for those trouble spots like my upper arms, inner thighs and buttocks.
I am so empowered to embrace my weight loss and the new me.
Debby Farmer
Retired, Manatee Sheriff's Office