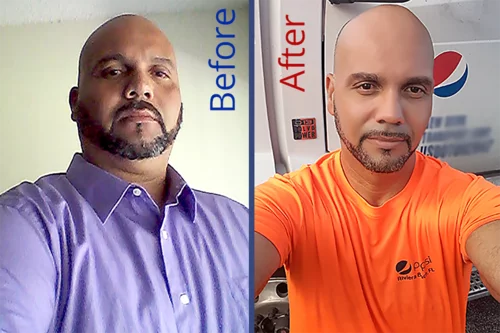 When I started health coaching with Mirabai I weighed in at 389.4lbs. In order to be eligible for Bariatric Surgery I had to lose 10% of my body weight.
It wasn't easy. The hardest part was not seeing the instant results to reach my goal weight before surgery.
I lost quite a bit of weight up to that point and I was 10lbs away from my goal. But I was at a stand still and became frustrated that I wasn't getting the results. During my next health coach session with Mirabai I told her that I am going to stop and leave the program. And said I don't think this is going to happen. I am going to leave with what I have right now and try to keep this weight off. During that session we tried to figure out what was keeping me from my goal. We looked at everything; my food choices, my exercise routine, and my stress level. We figured out if I could eat a little more protein and little less carbs, use a combination of weights and cardio to keep my heart rate up and increase the duration for my workouts a little bit, I had a good chance of dropping that last 10 lbs.
I did it and it worked!
I had successful Bariatric surgery and I lost a total of 122lbs over the last year and half. I am now at 267lb and counting.
Mirabai and I are a good fit. She asks me what I am looking for, gives me resources, and researches information that can help me. I feel that Mirabai and I communicate well. She knows how to keep me focused and progressing, and she's constantly giving me new input. You need it after surgery. You still have to find more ways and support.
I'm more active now outside of the house.

I've kept up playing basketball with my son.

As I lost the weight, I got more fit and ate better, healthier foods.

I have more energy to do many of the things that I couldn't do before. 

Having the weight off helped me climb in and out of the truck, and my knees don't hurt me any more.

I have more stamina.

I'm taking more responsibility at work.

I have more confidence in myself.

I feel and look better.
I would definitely recommend health coaching.
You need the support, dialog and resources. It is really hard to do it on my own. Outside the coaching box and talking person to person, it was more like talking to a friend who I trust. I am continuing to work with Mirabai and I am shooting for 250lb.
Testimonial by Juan Acevedo
YourChoice Health Plan Member