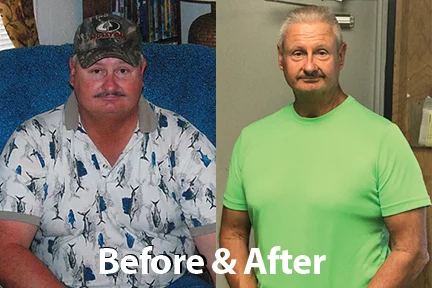 I have been struggling with my weight for years and I was worried about its effect on my health – I felt it affecting my mobility (I have had knee surgery and two shoulder surgeries). Working with a dietitian, nurse, and my health coach helped me get my weight and health under control.
8 years ago I weighed 362lb. I knew I had to do something. My first goal was to lose15lb so I could button up my pants. So, I started to walk and watch my portion sizes, and I stopped drinking a gallon of sweet tea every day. That helped me lose 50lbs in a year.
Then a Manatee YourChoice nurse, Robyn, contacted me about my blood work which she had concerns about. She told me my blood work was in the red in all categories. At that time I was 312lb. I met with a dietitian and realized I was getting more calories in my evening snacking than I ate in the whole day. I continued working with Robyn and started working out more regularly in the gym. I lost another 70lbs, bringing my total to 120lbs. Right now I weigh 242lb and at 6'2" I look and feel good.
When I heard about Health Coaching with Mirabai Holland I thought she might be able to help me organize my programs, stabilize my weight yo-yoing and stay on track. It worked, and is still working.
Here's one example.
When we started, I was frustrated because I kept going up and down in my weight by 10-15lbs. I ate pretty well most of the time but I gave myself a cheat day once a week. Problem is, that cheat day was bad enough to undo a whole week of good work. I was a little afraid that Mirabai would make me give up my cheat day. Instead she said "let's make a list of the stuff you eat on your cheat day."
I told her what I ate and what restaurants I was eating in. She went online and found all the foods and broke down the nutrients and calories for everything. I was totally shocked when I found out the amount of fat, salt, sugar and calories I was consuming. It was enough to make me rethink my cheat day choices. Once I did that I started losing weight again without giving up my cheat day. I eat and drink what I want to during the holidays and am still able to manage my weight.
We also talked about my labs. We kept a running comparison on the areas I needed to improve. My overall cholesterol wasn't too bad but my HDL's were still pretty low. Mirabai suggested that I try to add more cardio to my exercise program to help manage my cholesterol. We met at the gym and she helped me design what I could, and would, actually do.
My next set of labs showed a solid improvement in my HDLs, my LDLs went down, my Triglycerides were cut in half and my A1-C continues to go down and stay in the normal range.
I think the extra cardio also helped me stabilize my mood and reduce my stress – I always feel upbeat after my workouts. Mirabai also helped me stay active through my two shoulder surgeries. She modified my exercises so I didn't have to sit around and do nothing while I was healing.
Above all, Mirabai has been a coach not a boss. She never tells me what to do; she gives suggestions and resources based on the goals that I want to achieve. She helps me stay motivated.
No matter what health issue comes up she helps me get the information and encouragement I need to deal with it in a positive way. I can remember how I felt when I was overweight and how much better I feel now and want to continue to feel that way even as I get older.
I want to tell anyone who is thinking about doing this, that you CAN do it!
No matter what happens – even if you fall off track you can get back on and reach your goals. It's great to know there is help and support available. I would recommend health coaching to anyone who has health issues they need to improve.
Claude Jones
Utility Services Coordinator