Aerobics May Improve Memory.
I became interested in exercise and memory several years ago when my older students began to tell me that their memories seemed to improve after they took my class.
I was teaching mostly dance-exercise in those days. I started with simple steps and built up to a pretty complex routine.
There has to be a connection I thought, between the physical movement, making your brain learn this routine, and improved memory.
I'm no scientist but I was curious. So I started to break it down.
What I was having people do is learn short phrases of movement and then link them together. The cardio dance routine required them to move forward and back, side to side, remember specific steps; and stay in rhythm.
This was a real challenge for many of my students who had never done anything like this before. As they got more proficient, the class became a social gathering; because of this shared experience.
My students felt energized afterwards, not exhausted. They told me that besides getting a good body workout they were getting a memory workout as well. They said they could actually remember things better.
I wondered if there was science to support our anecdotal experience.
I contacted a couple of local Alzheimer's specialists (there was no internet back then) and they told me – you're probably right but there weren't any specific studies on this more than 20 years ago.
Even now the research is not conclusive. But, technology in the last 15 years has allowed science to discover a lot more about the brain.
Aerobics May Improve Memory.
Vascular memory loss has been linked to heart disease and cardio fitness is a major factor in preventing and managing that issue. Aerobic exercise increases the amount of oxygen supplied to the brain improving mental function. Cardio fitness has been shown to reduce loss of brain cells in older adults.
A study of 1,449 older adults shows those who in middle age exercised vigorously enough to perspire and breathe hard for 20 to 30 minutes at least twice a week reduced their risk of later developing Alzheimer's disease by about 60 percent.*
But cardio is just part of the equation.
Aerobics May Improve memory because research published in the New England Journal of Medicine suggests that certain types of dance, particularly with routines to learn and remember, may help prevent age-onset memory loss and diseases like Alzheimer's. "…. cognitive activity may stave off dementia by increasing a person's "cognitive reserve." **
And a study conducted at the Karolinska Institute in Stockholm, says activities that combined mental and social as well as physical stimulation offered the greatest protection against dementia***
Activity is the active word. Be physically active, mentally active and socially active, preferably all at once. Taking a Cardio Dance class or getting together with friends to do a Cardio Dance DVD is a good place to start. And to this day, when I start my cardio dance class I say,
"It's time to workout our hearts and minds!"
*Rovio, Suvi; Kareholt, Ingemar; Helkala, Eeva-Liisa; Viitanen, Matti; Winblad, Bengt; Tuomilehto, Jaakko; Soininen, Hilkka; Nissinen, Aulikki; and Kivipelto, Miia. "Leisure-time physical activity at midlife and the risk of dementia and Alzheimer's disease." The Lancet Neurology; published online Oct. 4, 2005.
** Dr Joe Verghese, lead author of study conducted at Albert Einstein College of Medicine in New York, N Engl J Med, 2003; 348:2508-2516.
***Karp, Anita; Paillard-Borg, Stephanie; Wang, Hui-Xin; Silverstein, Merrill; Winblad, Bengt; and Fratiglioni, Laura. "Mental, Physical and Social Components in Common Leisure Activities in Old Age in Relation to Dementia: Findings from the Kungsholmen Project." Presented at the Alzheimer's Association 9th International Conference on Alzheimer's Disease and Related Disorders, Philadelphia, Penn., July 17 – 22, 2004. Abstract published in Neurobiology of Aging, July 2004, Vol. 25, S2: p. S313.http://www.ncbi.nlm.nih.gov/pmc/articles/PMC3761497/
Compared with the control group, the exercise group significantly improved in verbal fluency (p = 0.048), word list delayed recall (p = 0.038), word list recognition (p = 0.007), and total CERAD-K score (p = 0.037)
Metabolic syndrome (MS) is associated with an increased risk of cognitive impairment.

Aerobic exercise improves cognitive function in elderly people and contributes to the prevention of degenerative neurological disease and brain damage. Dance sport is a form of aerobic exercise that has the additional benefits of stimulating the emotions, promoting social interaction, and exposing subjects to acoustic stimulation and music.

In the present study, dance exercise for a 6-month period improved cognitive function in older adults with MS. In particular, positive effects were observed in verbal fluency, word list delayed recall, word list recognition, and the total CERAD-K score.

Our data suggest that the implementation of dance exercise programs may be an effective means of prevention and treatment of cognitive disorders.

http://journal.frontiersin.org/article/10.3389/fnagi.2013.00075/abstract
For more info on health and wellness programs please visit www.mirabaiholland.com
 Follow Mirabai Holland, Certified Health Coach & Certified Exercise Physiologist:
TAKE CHARGE OF THEIR HEALTH NOW!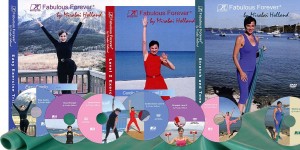 25% OFF ALL DVD AND EQUIPMENT! PRODUCTS UNTIL 9-30-18 Put in coupon code FABNOW at Checkout! CLICK MIRABAIHOLLAND.COM
EASE IN, BECOME MOBILE, GET STRONG, LIVE LONG!